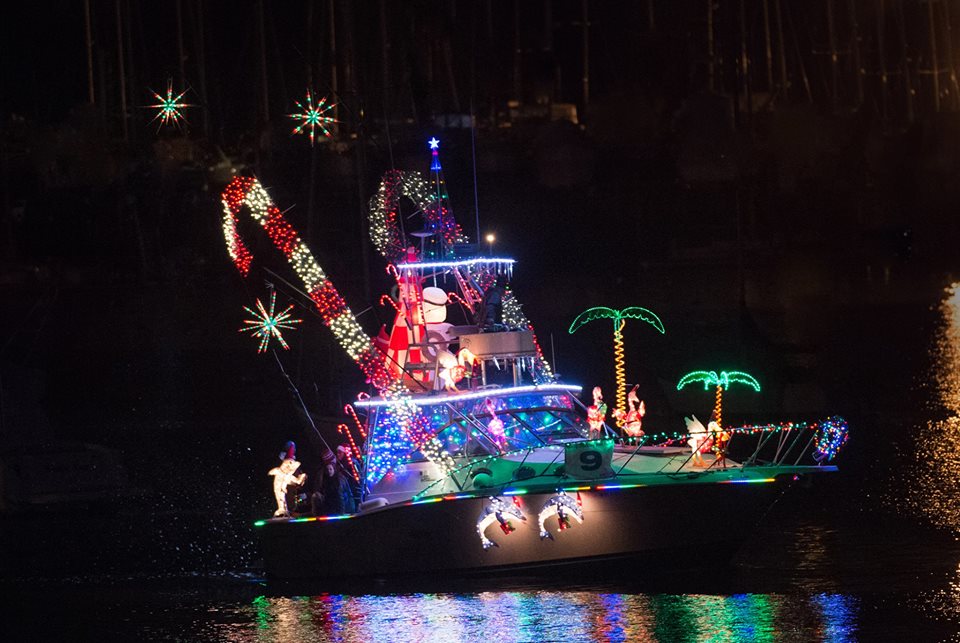 HUNTINGTON LIGHTHOUSE PARADE OF LIGHTS

A lighted maritime extravaganza that draws thousands of landlubbers to the shores of Huntington Harbor
NOVEMBER 23, 2018 (HELD ANNUALLY ON THE FRIDAY AFTER THANKSGIVING)
OFFICIAL KICKOFF OF THE HOLIDAY SEASON!
Holiday boat parades are a time-honored tradition in communities across the country. In 2010, HLPS President Pamela Setchell decided it was time for Huntington to have its own. There are many area residents who don't have the opportunity to get on a boat and experience the annual Music Fest on Labor Day weekend so the parade is a great way to "bring the light to the shore" while raising public awareness about the ongoing preservation efforts at the Lighthouse.
BOATS/VESSEL PARTICIPATION
Prizes in ten categories: Best in Show, Best Sailboat, Best Powerboat, Best Corporate Boat, Best Club Boat, Most Creative, Most Elegant, Most Outrageous, Fleets Favorite, and Best Music & Animation. $50 boat registration fee.
HOME/BUSINESS PARTICIPATION
Homes and businesses along the harbor are invited to "join" the festivities by registering, decorating and compete for new "landlubber" prize categories. $50 registration fee.
VIEWING THE PARADE
There are many areas along the harbor to view the parade. Local businesses and residents are also encouraged to hold viewing parties as a way of creating your own fundraiser for the Lighthouse.  For more details and up-to-the-minute information visit our Facebook page.
For additional information, email info@huntingtonlighthouse.org or call us at 631-421-1985
Download Applications Below
 BOATERS APPLICATION
HOME/BUSINESS APPLICATION
PARADE PROCEDURES
Huntington Harbor Boat Parade Route
The Huntington Lighthouse Preservation Society is hosting a holiday boat parade as a fundraiser. Join in or cheer along!
Info: http://boatingtimesli.com/NY/2018/10/01/huntingtonparadeoflights2018/
Times vary. Check event site for detail.
PLEASE NOTE: We are not hosting the event. We just make it easy to have fun on your boat!®